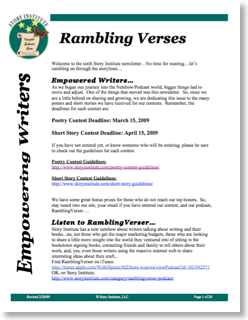 Welcome to the sixth Story Institute newsletter…No time for wasting…let's rambling on through the storylines…


Empowered Writers…

As we began our journey into the Netshow/Podcast world, bigger things had to move and adjust. One of the things that moved was this newsletter. So, since we are a little behind on sharing and growing, we are dedicating this issue to the many poems and short stories we have received for our contests. Remember, the deadlines for each contest are:
Read more
© 2017
Story Institute, LLC - John E. Murray, III & Teri A. Murray
Disclosure: At Story Institute, we receive compensation through iTunes, Amazon, HostMonster, and Google affiliate programs by linking to products. We are independently owned and share only our personal opinions.