RamblingVerses Newsletter – Episode VI – March 2009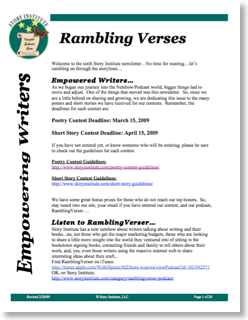 Welcome to the sixth Story Institute newsletter…No time for wasting…let's rambling on through the storylines…


Empowered Writers…

As we began our journey into the Netshow/Podcast world, bigger things had to move and adjust. One of the things that moved was this newsletter. So, since we are a little behind on sharing and growing, we are dedicating this issue to the many poems and short stories we have received for our contests. Remember, the deadlines for each contest are:

Poetry Contest Deadline: March 15, 2009
Short Story Contest Deadline: April 15, 2009

If you have not entered yet, or know someone who will be entering, please be sure to check out the guidelines for each contest.

Poetry Contest Guidelines:
http://www.storyinstitute.com/poetry-contest-guidelines/

Short Story Contest Guidelines:
http://www.storyinstitute.com/short-story-guidelines/

We have some great bonus prizes for those who do not reach our top honors. So, stay tuned into our site, your email if you have entered our contest, and our podcast, RamblingVerser….

Listen to RamblingVerser…

Story Institute has a new netshow about writers talking about writing and their books…no, not those who get the major marketing budgets, those who are looking to share a little more insight into the world they ventured into of sitting in the bookstores signing books, contacting friends and family to tell others about their work, and, yes, even those writers using the massive internet web to share interesting ideas about their craft…

Find RamblingVerser on iTunes: http://itunes.apple.com/WebObjects/MZStore.woa/wa/viewPodcast?id=301942371

OR, on Story Institute:
http://www.storyinstitute.com/category/ramblingverser-podcast/

Shared Verses…

Here are the verses we have received since our last newsletter for our poetry contest…enjoy…

Enter our contest here:
http://www.storyinstitute.com/poetry-contest-submission/

Only Love
© 2008 Lamar Cole

Love can sometimes be fresh.
Love can sometimes be new.
Love can sometimes make you happy.
And sometimes make you blue.
Love is the light that radiates from your eyes.
Love is your image floating in the skies.
Love is true.
And darling, the only love for me is you.

Our Love
© 2009 Lamar Cole

As long as there is love, I will cherish you.
As long as there is life, I will love you.
As long as the stars shine above, I will want you.
As long as there are waves in the ocean, I will need you.
As long as there is heaven above, there will always be our love.

An Ending Of A Similar Kind
© 2009 E.D. Arrington

I looked into your eyes and saw mine;
The countenance on your face sent me traveling back in time;
The love that poured from your heart reminded me of another;
It was the same love I had shared with my mother;
On a hot, muggy, August morn my mother went away;
My age was young and tender, but I can still clearly remember that day I woke to a world that suddenly felt enormously big and round;
And I, like the tiniest ant, now seemed to small to ever be found;
I wondered how or if I would again have a place where I belong;
For my mother was gone, my life no longer had its song;
Then I woke early one magnificent morn to a brand new world;
One filled with hopes and dream meant just for this little girl;
So, I dug in my heels and went searching for all I could discover;
Eager to see what possibilities lay ahead, each I wanted to uncover;
The road I traveled surely was not easy;
There were many dips twists bumps and curves;
Many times I nearly quit, many times I nearly lost my nerves during those dark scary moments when it didn't feel much like i was winning;
But with an iron will and soul full of hope, I leaped in and sent myself spinning on a journey with no light, no map, not direction sign
Just sheer determination to find the life destined to be mine;
Though I'm much older, there still remains much more work to, and on the very top of my list was to write this poem just for you;
To leave a message that I pray you're always keep close in mind;
For as you travel your life's journey, you may face a string of endless struggles;
But if you refuse to give up, refuse to quit each and every time;
One bright early morn, you too, will rise beneath a sea of stars to find that we not only share a story with a familiar beginning, but with an Ending Of A Similar Kind.

Visit E.D. Arrington's website for more information on her writing: http://www.edarringtonbooks.com/

Interpretations
© 2009 Jody McMaster

I cant suppress all these memories. Why would I try?
The past, like a songbird perched matter-of-factly on my window sill.
Not to be neglected. Passed down, recorded, each one.
On blank pages are penned an account of my life.
Etched on my brain for eternity.
Each one so vivid, like a beacon in the darkest of night.
They are replayed on a stage set in my mind.
I can return again and again to each scene, or not. Prolonged or fleeting; or not at all.
I am the keeper of these abstract thoughts.
There is no moderation. Only anything and everything.
Like sacred writings, I will read until my senses are full.
Until each perception has been nurtured,
all my impressions have been completely and entirely saturated,
every sensation has been manipulated absolutely.
They will continue on their voyage. There is no lull.
They peak, and my intellect becomes intoxicated. They have come to anchor now.
A hushed calm occupies my will. All reflection recedes.
Back to the recesses of my intellect. But only for a brief intermission.
Nestled among exaggerations,secrets, and misinterpretations.

Changing Times
© 2009 Courtney Lyn Blystone

Seasons change from summer to fall
Winter coming with an early frost
Plants start to shrievel up and turn brown
Grass soon turns into hay
Trees begin to lose all the leaves
Which turned such pretty colors in the fall.
People grow and change year to year
A baby learns its first word
Two new parents so brilliantly excited
A young boy learns to ride his bike
Like everything does in the cycle of life
People may grow, things may change
We can choose to accept it or run scared
Life is meant to be lived to the fullest
The weather might not all be sunny
You might not always wear a smile
Laughter may never come
Connections may be lost between good friends
In the end, one thing is constant
That is which we call, love.
You can read more of Courtney's work at: http://allpoetry.com/smurf

Ad Finem
© 2009 Jody McMaster

Today is the same as yesterday.
Tomorrow will be the same as today.
Misery pushes open the door of desperation.
A lull descends upon demeanor, and hopes quickly dissipate.
Soon becomes an afterthought.
Time passes.
Tomorrows come, and yesterdays pass with no change in incident.
Time is no friend of irrevocable circumstance.
Spirit is broken, and all becomes submissive.
Only to immortalize that which is influential.
It's this time, all times, all ways. Ad finem.
To the end.

So Lost
© 2009 Michele Lee Moyer

When your away
My eyes cry
Tiny little tears
On my pillow
I feel so alone
When your not
Here
I wish you
Would come back
Home
Where you need
To be
Because I feel
So Lost
Without you


Core
© 2009 Suzanne Grenoble

Apple
Below scarlet skin,
White flesh within,
Black bugs in snow,
Buried cold, slow
Apple seeds
Sift in and out of sleep.
Secrets unravel in the sand of dreams
So she must listen,
All the way to the center of things,
Here is where the silence rings,
The hollow shell of discarded cores.


Be sure to visit our Poetry Contributor section for all new entries:
http://www.storyinstitute.com/category/poetry-contributors/

Short Story Connections…

In this issue, we also bring you the entries for our short story contest. If you see any that you like, feel free to share comments on our site and show your support for your favorite writer.

If you haven't entered your short story yet, do so at:
http://www.storyinstitute.com/short-story-contest/

Deadline: April 15th…

Honesty Is
© 2009 Aaron Eugene Lee

Frosted Flakes, or Wheaties. Cheerios are all gone: only two little o's remain. The boxes are full of words like "Best" and "Brightest". "Be all you can be", that's our army's slogan. Tiger Woods ate the Wheaties, I wanna be like him. The tiger says his are "Grrrrrrreat!" I gotta be the best, brightest and fastest. And I wanna have my breakfast with some toast. The toaster is on the other side of the table. A real problem. I groan, and then come to my senses. I grab the small card table and wrench it sideways, knocking some silverware and the salt shaker on the floor. I made a mess, but I get the toaster.

Since my wife can't help me, I help myself to the bread cooking machine. It takes too long to heat up so I pop it early and just stuff my face with cold rye. It is cold and it is rye. It is also dry. My mouth is full of this dry rye bread – I chew it loudly and my wife just scoffs.

I think she lied to me last night. I think she lied for me last night. Last night in bed I dreamed of rye bread. This morning has fulfilled my wild dreams of the night before. Have you ever woken up from a dream just to have the dream fulfilled?

I had to.

I had to buy my wife's lie. Eat it up like I was eating the toast. We don't always talk when we go to bed together. Sometimes we just lay there and dream before we nod off to dream. It seems that we wish for things. Me and my toast. Her and her lie. That's all it was, a little white lie. What does a white lie mean in the midst of life. Ask me, or ask my wife. My wife will tell you it means a great deal. That Honesty is important. That Honesty is secure, safe, binding, and sure. Honesty is all of these things. Ask me and I will say that a white lie in life is like a piece of cold rye toast and an opened salt shaker on the floor.

I beat my wife to the floor that day. She was going to clean up the spill, but I insisted. I got there before her. She had a rag – but I had my napkin. How unexpected was I that morning? You see, I rarely get a napkin to eat my Wheaties, or my Frosted Flakes. But that morning was different. She was about to clean the mess – but I beat her to it. I got there first. I made the mess, and I would clean the mess. I didn't really need her there. Not for that. What is a white lie in the midst of life? It is only a small mess that I can clean up myself…that, and a cold piece of toast.

After dropping the salt, I thought it was like losing a part of myself. We are all made of salt. 'From ashes to ashes and dust to dust'. What about 'from salt and to salt we shall return'? I thought maybe we were all just a little white lie in the midst of some one else's life. I have now given up my salt, and lost my dust.

Before I go to work in the morning I have a kind of ritual. I suppose we all do. I do. My wife does, and I do. I remember my parents having their own morning ritual, so I suppose we all do. I step in the shower, and then back out. I forget my toothbrush. I keep my toothbrush in the cabinet – but I brush my teeth in the shower. So I need to remember to take my toothbrush in the shower. Kills two birds with one stone, I say. My wife won't shower with me because I brush my teeth. I thought she was strange when we married, but the longer you live with someone the more you learn to love them. Her ritual begins with cleaning up after me (except for that one morning) and then avoids me in the bathroom. She won't even come into the adjacent bedroom if I'm still getting ready. She complains about the steam and my singing. Of course she compliments my singing on occasion. I think it just depends on what song I sing that morning. This talk is tiresome – no one wants to hear about how I brush my teeth after cleaning up after myself.

My morning ritual progresses, as does my wife's (and everyone else's I suppose). I head off to work and the rest of the day is rather uneventful. Not to suggest that nothing exciting ever happens, but just to say that I've gone on about my day too much already. I want to talk about THAT day. Just THAT day. When I ate Wheaties and Frosted Flakes because the Cheerios were all gone except for two. If you can understand that day then you may believe me when I say I have seen the CHILD of MERCY and MERIT. It was a circumstance that day. Something happened that changed my world. That changed my wife's world. It was OUR world really, and what changed was between us. We were visited that day, though we never fully introduced ourselves. Our visitor came and left, like visitors tend to do, but ours left us with a gift.

Whoever came and went left us feeling silly. Stars silly. That is, so silly that we felt we were seeing stars. I dropped the salt and lost my dust. She came to help and I helped myself. At first it seemed like an act of rejection, and hers of retaliation. But when all was said and done I looked at her fine curves. How she filled out that dress very nicely. How she moved with grace and her shadow had trouble keeping up appearances with the real deal. My wife. So lovely, even if she did what she did. How could she stand it at all? Why hadn't she left me yet? Not that we ever fought – not really. Not that there were ever harsh words between us. Or threats, or fists, or fires of passion. I had swallowed my toast, but I wanted a second helping now. Honesty is brutal.

My wife, the queen of bees. She could have had her pick right out of high school, but she held out for me. We didn't meet until we were both out of college. What does that mean? I mean – I wasn't likely to meet anyone, and her…she could have had them all. But we met each other and now we were here together. The queen of bees and the jack of trades. But what could I do for her? The answer that came to me was my brain child. An idea so inspired that I think it was also left for me by our visitor. Something just for me. Just for me to give to her. I brushed my teeth before getting in the shower that morning. She knew about it too, because she passed through the bedroom that morning. Maybe that was her gift to me. Another chance. She saw me and I her. We both knew that my morning ritual had been set aside. And after that we made love and I called in sick to work. We wanted to spend all day together, but after our passionate throws we knew it was kind of like the salt and toast. Except maybe it was a little better that morning, after the sex. Though we didn't spend all day together it felt like we did. She said she had urgent business in the office and couldn't just call in sick. This was the real world and the real world needed her. I told her I understood – and that morning I think I did.

What did I do all day? It was like lying on a bed of nails. Not necessarily fatal, but if you try and get comfortable it makes things worse. She came home, and we saw each other again. We could still tell. That morning hadn't been a dream. There was still something between us. Given to us by our visitor. Maybe the world didn't change because of it – but something did, something just between us. Honesty is indirect. My wife may have lied to me the evening before, and she may do it again. But not every night, and I love her for it.

The only other spectacular thing about that day was my dream. Not the dream I had while I slept, but I'll tell you I met my wife that night. It was before that, when we laid down together and just breathed beside each other. We dreamed before we fell asleep. I couldn't tell what she was dreaming, but I'll tell you mine. I dreamed of the Honesty between us. What did it mean to me? Honesty is a one way ticket to the deepest part of a person's soul. It is a dark ride, and I have found myself frightened by it. But I ride the train and stare out the black window until the daylight comes back. Dark windows also provide a good reflection, but I did not turn away. I looked into the window anyway, seeing myself in the dark. The shadows beyond took shape and I saw a bird. A Crane. A beautiful bird that swooped down to the ground. It was flying. No, it was falling and it was lying. The bird of lies was headed for the ground and there might not have been enough air to slow it's descent. I wanted to scream out. To tell it to stop, to break its own fall. But that is not Honesty. So I prayed. Move into the fast lane, Crane. Die quickly, Dye your feathers red. Do not stop, do not hesitate, do not think that you can save yourself but give in. If death awaits you, be Honest.

My dream got me sweating a little bit, and my hand started to shake. My wife grabbed hold of my hand and I was able to stop, and sleep throughout the night.

See more of Aaron's work at: http://www.geocities.com/aelauthor/

The Slope of War
© 2009 Yael K. Miller

He was a scout.

He could have been an officer but he made his choice years ago. He had no interest in being an officer and his job as a scout kept him as far away from officers as possible and for a majority of the time. He had been in this business for a great many years as evident from the braid and stripes on the underarms of his Blue uniform.

Years ago, long before his birth, it was decided that ranking should not be so visible. It could be seen now only if a person stood right in front of another person and even then you could still prevent people from seeing the ranking. It was a good system and he enjoyed the rare occasions when he got to flash his underarms. This was one of those times.
He had been called to the Blue command tent. As he entered the camp he saw how few of them had survived. He could see the aftermath of a very recent battle. A defeat no doubt. He, of course, had been somewhere else scouting. He followed the discreet signs to the command tent – an old code that had never been broken. Or so he assumed as he had never heard otherwise and never heard about a command tent being specifically attacked.

He flashed his rank markings and gave his name to the guard outside the command tent. The guard had just passed the enthusiasm of youth and had not yet settled into the comfort of veteranhood.

"What happened?" the scout asked.

At this the guard got suspicious and lightly touched his belted pistol.

The scout again flashed his rank markings. "I'm a scout."

The guard relaxed. "I'm probably not suppose to say this but the Maroon boys ground us into little bits."
The scout nodded. He had seen the effects in the camp.

"The command tent's been reviewing the whole battle for the last two days," the guard said, "discussing some Maroon master strategist." The guard described in great detail the battle; he had been in the fight and had also eavesdropped at his post for the last two days.

The scout started to get an idea why he had been called but did not let his thoughts weigh too heavily. After all, these were officers and, beyond that, command officers. Who knows if they actually lived in the same universe as the rest of the world?

The scout nodded at the guard. The guard called out in a soft firm voice: "Scout Specialist reporting as ordered."
There was a grunt from the command tent that both the scout and the guard interpreted as permission to enter. The guard held open the tent door and the scout entered.

Inside the tent all the command officers clustered around a table covered in maps. Though most of their rank markings were obscured, from what the scout could see and who he recognized from his long career, the scout figured that all of command were huddled in this tent. Apparently, the Maroons really hadn't cracked the code to the location of the command tent.

The scout was handed a picture. "This is the Maroon commander that made us eat dirt," said an old familiar face.

The scout saw the other commanders frowning at the phrase but said nothing. Then he saw the old familiar commander was missing a rank mark. Apparently the other commanders had already spoken their piece. It was nice to see that, in the midst of the aftermath of a crushing defeat, the command structure still had time to place blame and demote.

"Something must be done," said a baby-faced commander, echoed in nods from the rest of the command except the one with whom the scout was familiar. As if a scout had no idea of how a war works.

"A sniper attack should do it," said the old familiar face.

After long experience, the scout had stilled his mental remarks from becoming public: "Are you insane? Sniping an enemy commander, not in battle, and a labeled master strategist? I know, I'll send him a note inviting him for tea."
The other commanders took the scout's silence for stupidity or perhaps cowardice. But the old familiar face knew what it was and grinned. He said to the scout, "This Maroon commander takes walks in a forest clearing just beyond the no-man's land at dusk." The scout was handed a Maroon uniform – a lowly private by the rank markings. "Wear this."

The baby-faced commander gestured the scout to a map. "Here's the defense map of our side of no-man's land and what we know of theirs."

The scout quickly memorized the map: mines, chemical traps, and other nasty stuff. This is what made him such an excellent scout, the ability to quickly assimilate maps and terrain and apply the knowledge to survival.
It was clearly the end of the meeting; the scout waiting to be dismissed and the old familiar face about to open his mouth when one of the baby-faced commander's cohorts said, "This mission is absolutely vital. Failure is not an option. You're dismissed."

As the scout left the tent and nodded to the friendly guard, he could only think that this was further proof that he was glad he had never become an officer. Something about being an officer must fry a person's brains so he can only state the obvious.

Just outside the camp, the scout changed into the Maroon uniform. He belted on a pistol even though it was not standard for a lowly private to carry one; the scout always figured better safe than sorry. The scout removed his sniper rifle from its hiding place and attached all the extensions for an extra long shot.

The scout crept into the no-man's land with heavy fog blanketing the area. He wove his way through the Blue traps of his own side and went as far as he could into the Maroon-trapped area. Lying down in a sniper prone position, he lined up his rifle scope with the forest clearing and waited for dusk.

He was patient, a veteran. Although he much preferred his scout duties, he was no untried greenie as a sniper.
Dusk approached and the fog shifted away from the forest clearing. It looked to be close to perfect conditions for a sniper shot.

And then a figure in Maroon walked into the clearing. The scout could not yet definitely identify that this was his target as the Maroon paced back and forth. Finally the Maroon stopped pacing and sat on a tree stump. Now the scout could confirm that this was his target. The scout waited to ensure that the Maroon was not about to move. The scout lined up the shot just as the Maroon turned his head to the side leaving the scout with only a profile at which to fire. But this was no problem for the scout, and so he pulled the trigger.

At that moment the scout saw something impossible in his scope. The target had turned his head back so that the scout could again see the target's face. The target was no longer the Maroon that he had been shown the picture of but himself, the scout! Somehow he, the scout, sat on that tree stump.

The scout dropped his sniper rifle and sprinted to the forest clearing – praying he'd dodge Maroon traps, running on pure adrenalin, something he had not done since a young, green scout. He made it to the forest clearing just as the bullet hit the target/himself/the person's head. The scout drew his pistol and nudged the body over. The body's face was completely gone – the scout had no clue whether he had impossibly shot himself.

Two Maroon figures dashed into the clearing carrying automatic weapons. The scout was outgunned and did not bother to fire at the Maroon men. The scout only hoped they would be merciful when they figured out he had killed their master strategist commander.

One of the men, hopelessly young and slightly out of breath, said, "Commander, are you alright? We heard a gunshot."

The scout thought: "Are you insane? Your commander is lying on the ground."

The two Maroons were not looking at the body but at him as if he, a Blue scout in a stolen Maroon uniform, were their commander.

Something impossible was going on. The scout drew in a breath and thought: "I guess I'm the commander of these Maroons."

The scout-now-commander said, "A Blue in a stolen Maroon uniform snuck through the no-man's land and tried to kill me."

Only now did the two Maroons look at the body. The other Maroon, a veteran and someone apparently quite familiar with the Maroon commander, said, "I told you, Commander, it's too dangerous for you to be walking in this clearing. I know you said you needed to get away to think but now your safety has been compromised."

The scout-now-commander allowed himself to be herded between the two Maroons into the Maroon camp. It was a healthy camp with few wounded, not like the Blue camp, and, as he walked, he noticed the stiffening of soldiers as he passed – the coming to attention when a well-respected commander walks by. All of these Maroons thought he was a Maroon commander. Flashing his rank markings to himself, he saw they were no longer the markings of a lowly private on the uniform he put on earlier today. They were the markings of a very high-ranking and well-decorated commander.

His two Maroon bodyguards escorted him to what he assumed was the Maroon command tent. On the way he did not recognize the codes to a command tent, although in truth he had not been looking so hard. He entered, and the commanders in the tent all came to attention.

"Clear your head, sir?" one commander said in tones of an subordinate talking to a superior and desperately hoping the superior knows what to do.

He nodded and moved to the table. On it lay maps of incomplete plans of a battle. The same battle that had decimated the Blues two days ago. He now understood what was happening – at least as far as he could. This was a he that had not stayed a scout but had become an officer, a command officer. All the other commanders in the tent looked at him for a plan. What could he do? Just this morning he was a Blue scout. Could he really turn his back on the Blues and plan a Maroon victory? Looking around the tent, he realized he had to do this. Somehow, someway, he had become a Maroon and the Maroons needed him – they were his people now.

He took a deep breath and moved forward. He explained his plan of attack based on what the Blue guard told him about the battle two days ago and the map of the Maroon side of no-man's land he saw earlier. A brilliant plan – the other commanders were in awe. "We strike at two hours before dawn," he said. After all the commanders completely understood the plan, they dispersed to inform their own subordinates.

He laid down to sleep after informing his guards not to wake him, not even during the battle. Although he was now a Maroon commander and the Maroons were his people, he had no desire to see the Blues slaughtered.
He awoke late in the afternoon to murmuring outside his tent. He granted entrance, and the grinning faces of his commanders greeted him. Everything had gone according to plan – an amazing victory. He toured the camp, visiting the few wounded. Almost all of the wounded were on the Blue side.

His commanders begged and pleaded for two days that they should follow up on the victory and crush the remnants of the Blue army. But he could not allow it; he had killed all the Blues he could stomach. Near dusk of the second day, he informed his bodyguards that he was going for a walk alone to clear his head. They protested but he finally wore them down. No doubt they would still be close to him though hidden.

He walked until he came to a forest clearing, the perfect place to think things over. He paced, reviewing the ethics of what he had done. The Maroons needed him to be a Maroon master strategist commander so he gave that to them, ignoring that a short while ago and for most of his life he was a Blue scout.

He felt dizzy so he sat down on a tree stump. Suddenly he heard the sound of a long-range sniper shot.
He turned his face to the bullet.

You can follow Yael on Twitter at: http://www.twitter.com/MillerMosaicLLC

Read more short stories on our Short Story Contributor page:
http://www.storyinstitute.com/category/short-story-contributors/

Prompted Writing…

Here are a couple of writing prompts to encourage those little voices to supply your stories and verses with a direction…

St. Patrick's Day – Wearin' the Green
The wearin' of the green…that's the day when all those who are not of Irish decent celebrate the lovely story of St. Patrick and his day. From marching in large parades to drinking green beer to eating corned beef and cabbage, this day is about celebrating life and enjoying it. This festive occasion brings about a brotherhood many don't remember exists the rest of the year. This joyous occasion provides opportunities for grown adults to relive their youth and become a part of new traditions. And, don't forget the beer.

Choose your path. Choose your subject. Choose you remember of the day, if you can remember. Were you standing in a parade line waiting to march your way down Michigan Avenue hold a freezing piece of metal, praying and hoping that the cameras would not catch your step on the opposite foot from everyone else as you passed by the judging booth? Were you a bystander watching the people walk by, happy, chilled, and throwing candy? Either way, choose your words well, but don't leave out the pot of gold. Remember poems are simple, but have all the power of a story in a little, tiny space. Post it on Story Institute, or share elsewhere, but write and enjoy…

Groundhog Days
Ahh, that cute, furry little creature that determines whether the weather will be kind or severe. Yes, this creature is the groundhog. Tiny ears…small pudgy body…very timid…very predictive of the possible future. Sometimes he is correct. Other times he is no so much. Create a verse that ties in the semblance of this simple creature to his prognostications.
When did this craziness start? Does the groundhog know the story itself? Or, is he just along for the ride of being woken early and waits for extra food in a side dish that had remained dormant for an extended period of time as hibernation took over. Give your day and critter a personality that breathes life into the day and the events around the day. Think of how you don't care about the outcome, yet somehow are always disappointed when he sees his shadow. Post it on Story Institute, or share elsewhere, but write and enjoy…

Selected Stories Unravel

The book has sat on the shelf since you were three. OK, maybe four…However, the book has always been there. You remember when you were ten, opening the cover once…once…And, your father stood over you and asked where the book belonged. You quickly put it back. You managed to see a few words inside the cover. Those words have stuck with you to this day. Now, as you sort through your father's belongings shortly after his recent passing, you remember them…

What were those words? Who is this character? What was the book? Why did the father leave it on the shelf for so long? Were there other books on the shelf? Was the character able to read the other books? Were there other times the character got close to finding out what was inside?

Think about the special times in your own life and reflect on the stories they can tell. Connect with your parents and remember the stories they shared. What plotlines did they leave out? Did you find out about any later in life? Realize the impact of the storyline as you write and expand on the ideas and the meaning of the book itself. Decide on the story, and write. Post it on Story Institute, or share elsewhere, but write and enjoy…

Grandma and the Friendly Feline
Grandma has not been feeling well recently. In fact, her grandchildren think that she is starting to lose more than her memory. She seems to have intimate conversations with her cat. One day, however, her littlest granddaughter over hears one of those conversations…both sides…

This story connects the imagination of a little one with the belief that rests only with age. The granddaughter sneaks away from playing with her sisters to listen to the stories the feline and her grandmother share. The cat talks about what he does at night and the tricks he plays on the children, while grandma shares stories of her past.
Who is this special animal? How is the grandma and the grandchild able to understand what it is saying? Where exactly do they live? How will the stories progress? How will the story end? Decide on the path. Decide on the why. Decide on the story, but write. Post it on Story Institute, or share elsewhere, but write and enjoy…

Visit us at Story Institute for other ideas and writing prompts…
http://www.storyinstitute.com

To take RamblingVerser with you or read it offline, download the PDF version here:
RamblingVerses Episode 6 March 2009
© 2017
Story Institute, LLC - John E. Murray, III & Teri A. Murray
Disclosure: At Story Institute, we receive compensation through iTunes, Amazon, HostMonster, and Google affiliate programs by linking to products. We are independently owned and share only our personal opinions.