Story Idea - What are They Thinking?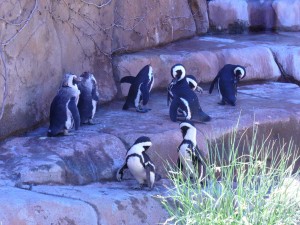 Sometimes, pictures are not enough to purge a story from the depths of your mind…you have to go beyond the pictures themselves and ask questions about the subjects or objects within the pictures. You may see some simple penguins…simple in a picture, but when you imagination takes over, they are waiting in line for a local night club…they are waiting to see the humans…Or, perhaps, they are just waiting for Godot…you decide…Post it here, or share elsewhere, but write and enjoy…

Other Penguin Short Story Resources:
New Zealand Penguins (Not a story, but helpful)
Sea Voices
Penguins Christmas Coloring Page
© 2017
Story Institute, LLC - John E. Murray, III & Teri A. Murray
Disclosure: At Story Institute, we receive compensation through iTunes, Amazon, HostMonster, and Google affiliate programs by linking to products. We are independently owned and share only our personal opinions.