Poem Idea - Wooden Benches – A Place to Rest
September 6, 2008 Filed in:
Objects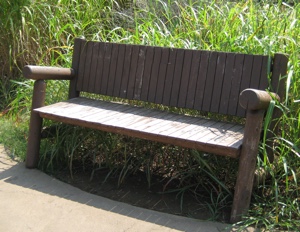 A few wooden strips bound together by glue, nails, or rope form a comfortable or just solid surface on which to rest a spell. Benches can be a welcome site to a weary traveler. They can be placed well along a path to provide enough points of respite. They can serve as places to share messages with each other, consumers, and random woodland creatures who happen by during or after our visit.

Was there a particular bench that you sought out? Was there a bench that served as brace as you bent one knee and proposed to your soulmate? Remember that time; remember the location, and pay attention to the details of your needed support. Post it here, or share elsewhere, but write and enjoy…
© 2017
Story Institute, LLC - John E. Murray, III & Teri A. Murray
Disclosure: At Story Institute, we receive compensation through iTunes, Amazon, HostMonster, and Google affiliate programs by linking to products. We are independently owned and share only our personal opinions.