Poem Idea - Remembering the Old House
July 31, 2011 Filed in:
Family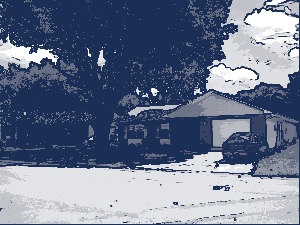 It may be old, but it is still fresh with the memories of the years you have spent there. That childhood house still stands. It makes its way into dreams and into stories. Think of where you grew up and connect with the good times. Remember an event that was special. Remember a time that was simpler. See your days again in that old place. Imagine your time in a more reflective light. Talk of the structure, the rooms, the windows. Talk of the yard, the sidewalk, the elevator if it was there. Look into your past and share the intensity that is less powerful now, but grows with each dream that it may have housed.

Choose your words well. Choose your flow carefully. Do you start inside or outside the abode? Is it a house, apartment, or town home? Do the neighbors enter into the picture? Or, does the house stand alone. Speaking of pictures, look at some old photos to spark a memory. Gather the details as best you can. Pull out the details with as much vividness as possible within a small amount of space. Reflect on the happiness you remember. Reflect on the safety it provided. Reflect on the connections you may still have there and post it here, or share elsewhere, but write and enjoy…
© 2017
Story Institute, LLC - John E. Murray, III & Teri A. Murray
Disclosure: At Story Institute, we receive compensation through iTunes, Amazon, HostMonster, and Google affiliate programs by linking to products. We are independently owned and share only our personal opinions.